London To Bournemouth Minibus Hire
MINIBUS & Shuttle
Services for Bournemouth
London minibus Hire offers low cost minibus services to Bournemouth and beyond. We have various size minibuses to suit your needs.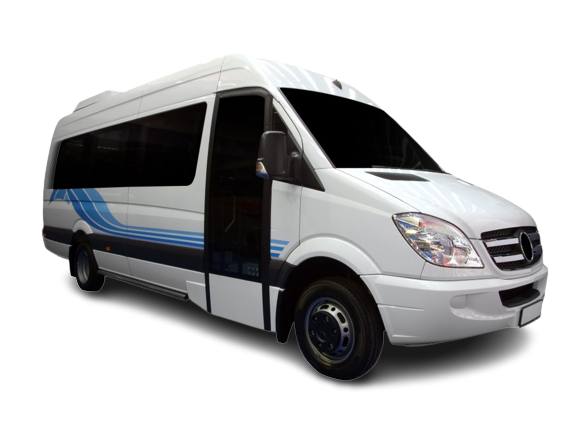 All of the vehicles in our fleet come with air con and USB ports as standard. We also have one of the newest fleets in the market for your comfort.
Minibus and Coach hire to Bournemouth
from 8 passengers to 24 Passenger
If you're looking to travel from London to Bournemouth with a group of people, UK minibus transfers offer 18-seaters, 16-seaters, and also 24-seaters.
The 8-seater minibus is an ideal choice for groups of family and friends. With its spacious interior, everyone can travel comfortably. This makes it perfect for families, small tour groups, corporate teams, or any gathering that needs transportation for a moderate-sized group.
When planning a group outing with your loved ones, you want to ensure everyone is comfortable and has enough space to relax during the journey. That's why the 16-seater minibus is the perfect choice for your transportation needs. With its generous interior, you can rest assured that everyone will be able to stretch out and travel in style. Whether you're headed to a family reunion or a day trip with friends, this spacious vehicle will provide a stress-free and enjoyable travel experience for all.
Are you in need of dependable transportation for your upcoming special event, road trip, or group outing? Look no further than the 24-seater minibus. This spacious vehicle boasts enough room to comfortably seat 24 passengers, making it the ultimate choice for a wide range of occasions. Whether you're planning a corporate event, family reunion, or weekend getaway with friends, this minibus is the perfect solution for all your transportation needs.
The charming town is home to a remarkable stretch of seven miles of fine sandy beaches, which never fail to enchant visitors and residents alike. One of the most popular beaches is the famous Bournemouth Beach, which is celebrated for its pristine blue waters and shimmering golden sand. This delightful town boasts an impressive seven-mile expanse of soft sandy beaches that captivate tourists and locals alike. Amongst them, the renowned Bournemouth Beach stands out as a favourite, renowned for its crystal-clear blue waters and glistening golden When you're making plans for your trip to Bournemouth, make sure you don't miss out on the legendary Bournemouth Pier. It's an attraction that's essential to experience, with plenty of options for entertainment like arcades, restaurants, and stunning views of the coastline. The Russel Cotes Art and Museum is an unforgettable experience. The Victorian manor where the collection is housed is an architectural masterpiece that offers stunning views of the sea. The museum boasts an impressive and extensive range of cultural artefacts from diverse parts of the world. The artwork on display is truly exceptional, and the historical items are fascinating. It was a privilege to immerse myself in the rich cultural heritage showcased at this museum.
 UK Minibus transfers ensures that customers get a comfortable and enjoyable travel experience. Our priority is giving the passengers the number one  travelling experience that they can get! So minibus company strives that passengers are comfortable and safe. With our high-quality seats there is a relaxing and enjoyable  seating experience. Passengers may have to travel long distances so we have put this in place to ensure that you are comfortable. Our company to ensures passengers that they are supported when travelling short or long distance. Our seating arrangement gives the passengers enough room for leg room and the other passengers sitting next to them. The seats are put in place to provide support and comfort and making the journey enjoyable and relaxing. With our service we also like to ensure that passengers are getting the best service. In our minibuses and couches we provide amazing air conditioning; this gives passengers a better experience. When travelling it is important that passengers get to their destinations safely, our company has professional drivers that will guarantee safety and comfort. London minibus hire drivers have a good understanding of different routes as they have been trained so that you can get to your destination without stressing. Also our drivers have great time management. So that pick up and drop off times are exact. 
16 Seater minibus hire with driver. 16 seater minibus the fleet comes  in Ford transit and Mercedes Sprinter models, Have AC and some Mercedes come with a full size boot.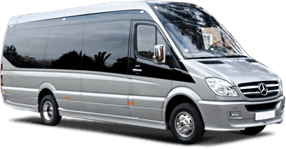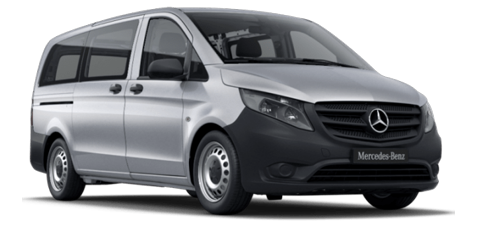 8 Seater minibus plus driver.  Extra luggage space for the airport transfers. this is the ideal minibus with driver for small group  corporate travellers who have several meetings travelling around London. . The Vito has a large  enough boot to carry 8 large suitcases.
Our 5 / 6 passengers Mercedes Vito or VW transporter for the mall crew travelling around UK. some of the features are reclining seats  / full AC cabin , leather seating.